Excerpt:
Between 2010 and 2014, about $1.4 trillion in commercial real estate loans will reach the end of their terms. Nearly half are at presently "underwater" that is, the borrower owes more than the underlying property is currently worth. Commercial property values have fallen more than 40 percent since the beginning of 2007. Increased vacancy rates, which now range from eight percent for multifamily housing to 18 percent for office buildings, and falling rents, which have declined 40 percent for office space and 33 percent for retail space, have exerted a powerful downward pressure on the value of commercial properties.
The largest commercial real estate loan losses are projected for 2011 and beyond; losses at banks alone could range as high as $200-$300 billion. The stress tests conducted last year for 19 major financial institutions examined their capital reserves only through the end of 2010. Even more significantly, small and mid-sized banks were never subjected to any exercise comparable to the stress tests, despite the fact that small and mid-sized banks are proportionately even more exposed than their larger counterparts to commercial real estate loan losses.
A significant wave of commercial mortgage defaults would trigger economic damage that could touch the lives of nearly every American. Empty office complexes, hotels, and retail stores could lead directly to lost jobs. Foreclosures on apartment complexes could push families out of their residences, even if they had never missed a rent payment. Banks that suffer, or are afraid of suffering, commercial mortgage losses could grow even more reluctant to lend, which could in turn further reduce access to credit for more businesses and families and accelerate a negative economic cycle.
It is difficult to predict either the number of foreclosures to come or who will be most immediately affected. In the worst case scenario, hundreds more community and mid-sized banks could face insolvency. Because these banks play a critical role in financing the small businesses that could help the American economy create new jobs, their widespread failure could disrupt local communities, undermine the economic recovery, and extend an already painful recession.
There are no easy solutions to these problems.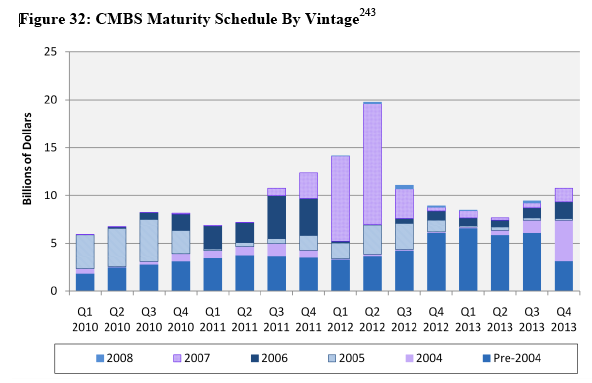 http://www.nakedcapitalism.com/2010/02/congressional-oversight-panel-serious-pain-in-commercial-real-estate-just-starting.html